About Us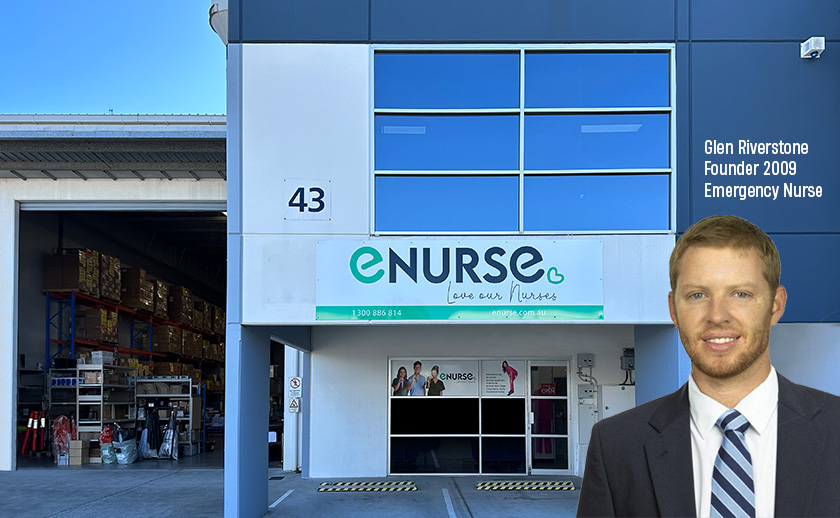 Date Posted:20 June 2023
Our Quirky Journey from Nursestuff to eNurse!
Once upon a time in January 2009, a brilliant emergency nurse named Glen Riverstone had an "aha!" moment. He had just experienced the dreaded sharps injury from glass ampoules, and instead of accepting it as "just part of the job," he decided to do something about it. Little did he know that this incident would set in motion a chain of events that would lead to the birth of our beloved eNurse!
Glen, armed with determination and a passion for innovation, embarked on a mission to create a safety device that would revolutionize the nursing world. And voila! The SnapIT Ampoule Opener was born, winning the prestigious People's Choice Award on the ABC New Inventors in 2007. Soon, nurses from over 15 countries were snapping their ampoules with ease and rejoicing in their newfound safety.
But Glen's entrepreneurial spirit didn't stop there. He realised that nurses needed more than just ampoule openers—they deserved a one-stop shop for all their nursing needs. And so, in September 2010, eNurse Pty Ltd came to life, emerging from the cocoon of Nursestuff.com.au. With a click of a mouse, nurses could now access a wide range of scrubs, clinical reference cards, equipment, accessories, and shoes—everything a nurse's heart could desire!
But Glen's journey was far from over. He wanted to take comfort and style to a whole new level for nurses. Months of dedicated testing and feedback from nurses led to the creation of our prized possession—the elitecare Classic Unisex Scrubs! These scrubs, available in vibrant colors and various lengths, quickly became the talk of the nursing town. They were comfortable, durable, and simply fabulous!
At eNurse, we take pride in our holistic approach to nursing. We don't just sell equipment and scrubs; we support the professional and personal needs of individual nurses. We're all about making nurses' lives better, both at work and at home. We're like your trusty sidekick, always there to brighten your day and offer a helping hand.
With the love and support of our amazing customers, eNurse has grown to become Australia's leading online shop for nurses. We're still proudly Australian-owned, and our passion for improving nurses' lives remains at the core of everything we do. Our product range continues to expand, catering to nurses of all modalities. We're constantly on the lookout for new and exciting items that will make you go, "Wow, I need that in my life!"
But wait, there's more! At eNurse, we're not just your average online shop. We're a vibrant community where nurses come together, share stories, and have a good laugh. We like to be a little cheeky and inject some fun into everything we do. So, join us on this quirky adventure and discover why our customers can't help but love us!
Thank you to the 100,000 nurses, midwives and healthcare professionals who are on our database and many who have shopped with us. We are proud of our nurses and are passionate about supporting the nursing community both here in Australia and abroad.
So, dear nurses, midwives, and healthcare professionals, accept our heartfelt thanks. You inspire us to keep pushing the boundaries, to innovate, and to find new ways to support you. We'll keep striving to make your eNurse experience as fun, quirky, and delightful as possible because you deserve nothing less.
Remember, you're not alone in this wild adventure called nursing. We're in it together, creating a symphony of stethoscopes, scrubs, and laughter. So let's keep marching forward, one heroic step at a time, brightening the world with our care and compassion.
Thank you, thank you, thank you, a million times over. We raise our imaginary nursing caps to you, our beloved eNurse champions! Let's continue making waves in the nursing universe and keep the fun and quirkiness alive. Stay fabulous, stay fierce, and always remember—we're here for you, today and every day!
Blogs
We're not just about selling stuff; we genuinely care about your well-being. Our blogs cover everything from tax tips to mental health, Christmas ideas to financial well-being. We want to ensure that you're well cared for, both inside and outside of work.
Our blogs cover stories about life as a nurse, tax tips, mental health, Christmas Ideas, financial wellbeing and so much more.
Our social media channels are all about giving you a laugh, and also showing you what's new at eNurse.
Ethics
At eNurse, we wear our heart and scrubs on our sleeves because we're all about caring—caring for the world, its people, and our beloved healthcare professionals.
When it comes to scrubs, we don't just stitch them together haphazardly; we create them with love and ethics. Why? Because we care about making a positive impact. We proudly embrace the slow fashion movement, ensuring that the talented staff who craft your scrubs are treated with respect and paid fairly. Our extraordinary purchaser, with over 40 years of textile industry expertise, scours the globe to source the finest products, going the extra mile to personally visit every factory—now that's dedication!
But our caring nature doesn't stop at scrubs; it extends to the broader global community. We forge partnerships with ethical factories to safeguard the well-being of staff around the world, because everyone deserves to be treated with dignity. We also join forces with important communities near and far, collaborating with university students across Australia and sponsoring a variety of events. Together, we strive to ensure that every corner of the community feels the warmth of care.
So, join us on this joyful adventure of caring, where ethical scrubs and a compassionate spirit come together in a harmonious dance. Let's make a difference, one stitch at a time, and create a world where love, respect, and quirky kindness reign supreme.
Here is some ways we help:
Meet Gill and the neonatal team at the Goroka Hospital in the Eastern Highlands in PNG, where ACNN nurses have been visiting since 2016 , twice a year teaching- until covid. This collaboration provides low-dose, high frequency training to increase the confidence, knowledge and skills of healthcare workers and village health volunteers (VHV) caring for newborns and their mothers around the time of birth. This training is underpinned by the American Academy of Pediatrics (AAP) Helping Babies Survive (HBS) program.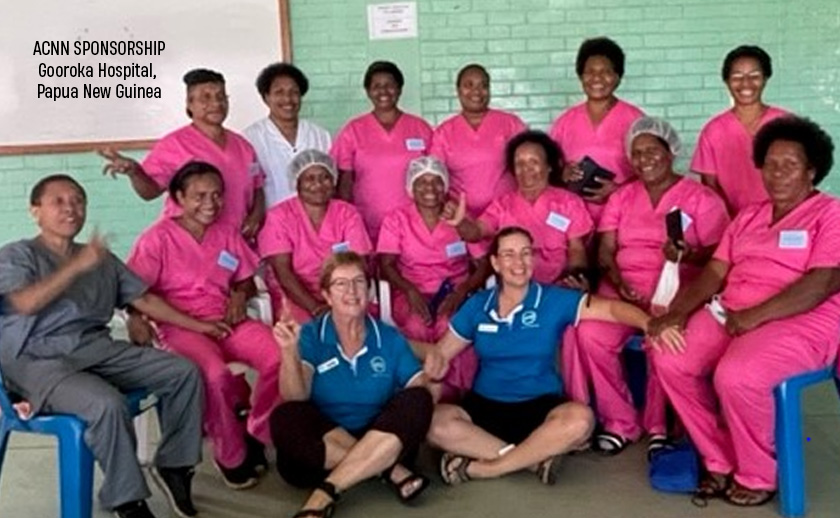 University of Queensland Students supported the local hospital in Nepal. We donated products for their staff.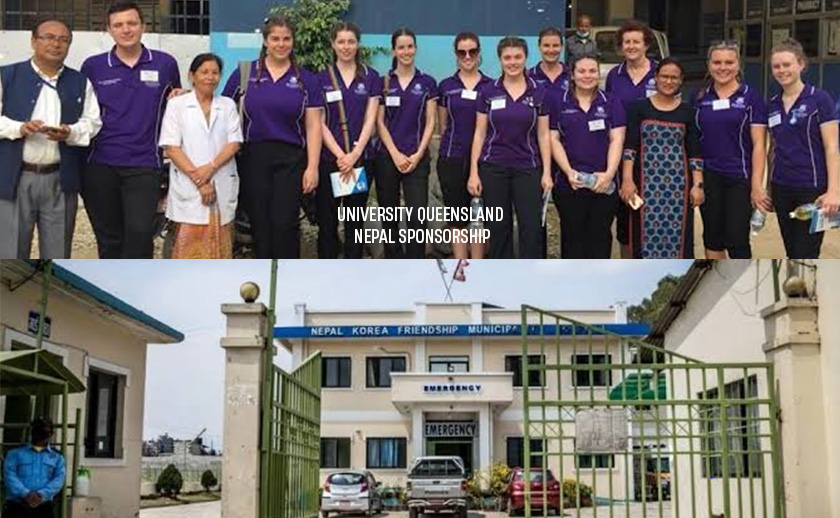 We like to spread joy in the community in tough times, and also promote happiness. When the floods hit Lismore, we donated scrubs to nurses sho were impacted. We also donated printed scrubs for their Fun Friday Scrub Days.
For the RSPCA, we also donated printed scrubs, that bring joy to their staff.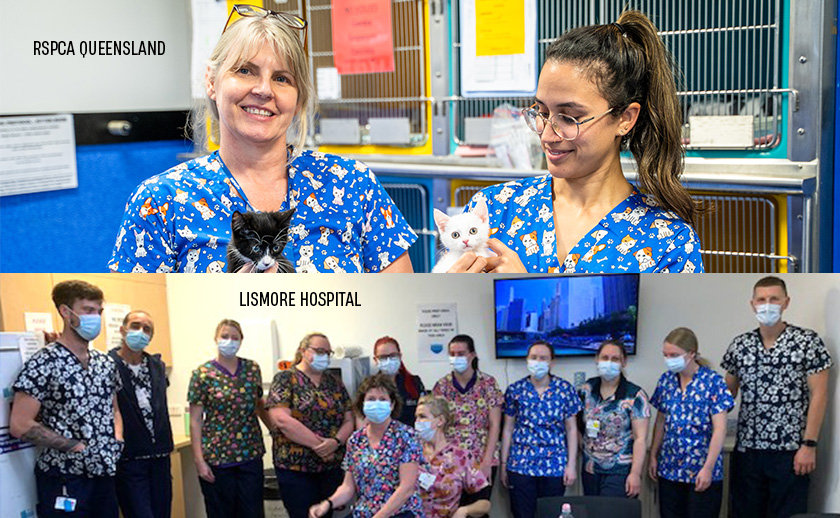 We collaborate with First Nation Artist to help build awareness and of our "Healing Country". This collaboration shows how both the healthcare and First Nation People are in the healing stage and how we can both move forward as one. This beautiful scrub is called the Yapatjarra Muu, which means "Healing Country in the Kalkadoon Language. Below Chernee Sutton (Artist ) and Dr Brad Murphy OAM. His staff proudly wear the elitecare Yapatjarra Muu scrubs as they create a wonderful talking point for their patients and staff.
eNurse wishes to acknowledge the Traditional Custodians of the land on which we work and gather. We pay respect to Elders - past, present and emerging - and recognise their ongoing connection to this beautiful country, with knowledge and stories that have been handed down since time immemorial.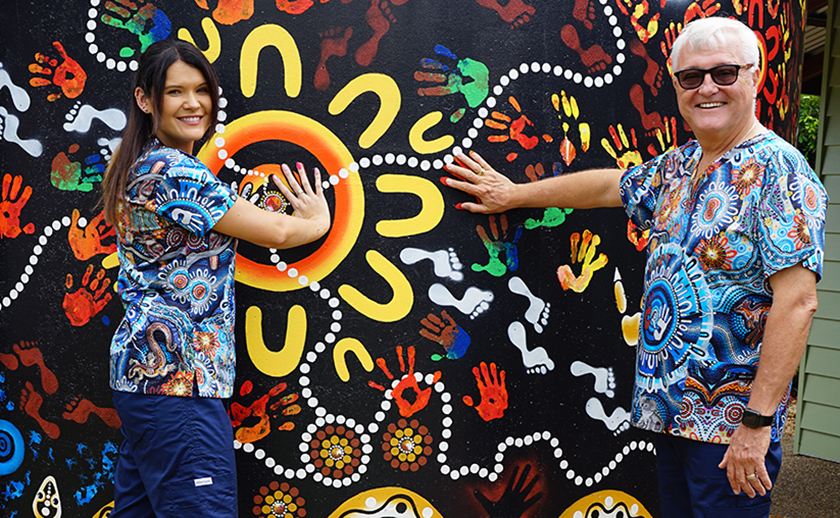 We are always caring about nurses and their best interests are in our hearts.
Sustainability
Embarking on a Quirky Green Adventure!
At eNurse, we have a mission that's as refreshing as a splash of eco-friendly confetti—we're determined to step lighter on our beloved planet. As we lace up our sustainable sneakers, we're busy brainstorming ways to ensure that our items come wrapped in the most planet-loving packaging.
Rest assured, our green crusade is a work in progress, and we're sprinting towards a future where sustainable packaging reigns supreme. As of now, we're thrilled to announce that our packaging for Australia Post is already giving the Earth a big high-five—it's biodegradable and ready to compost its way into nature's embrace.
But that's just the beginning! We're teaming up with our fantastic suppliers to wave our sustainability wand even further. Together, we're working tirelessly to ensure that all our packaging is as eco-friendly as a field of sunflowers. It's a partnership filled with creativity, passion, and a touch of magic.
So, dear eNurse community, get ready to be dazzled and amazed as we unveil our sustainable packaging endeavors. We promise to keep you in the loop with every exciting step we take. Together, we'll pave the way towards a greener future, one biodegradable package at a time.
Let's embrace this quirky green adventure with open arms, because when it comes to sustainability, we believe that every small change counts. Stay tuned for more exciting updates as we journey towards a world where caring for our planet is just as fashionable as rocking those elitecare scrubs!
Note: Our sustainability efforts are a continual work in progress, so keep an eye out for all the fantastic eco-friendly surprises heading your way.
Introducing Our Fantastical Rewards Program!
Attention, healthcare superheroes! Get ready for our marvelous Rewards program designed exclusively for you.
Join our reward program and receive a magical $10 voucher as a welcome gift on your next purchase.
Birthdays are extra special with our surprise birthday vouchers. And when you refer a friend, we'll reward you with even more points to spend!
Thank you for being a part of our eNurse community. Let the celebrations begin!