Choosing your stethoscope: What are the top stethoscopes for value and performance?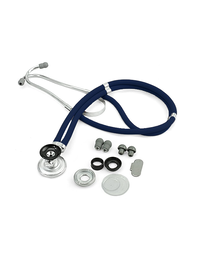 Since its invention in France in 1816, the stethoscope has become ubiquitous with health care and its modern descendants are essential equipment for nurses, midwives, paramedics, doctorsÑin short, all medical workers.

What began as a simple rolled up paper tube to spare the doctor the embarrassment of placing his ear against the chest of a female patient while listening to her heart, has evolved into a highly sensitive piece of medical equipment. If you're keen to learn more about the different types of stethoscopes and their applications, we've blogged about that here.

For now, suffice to say that modern stethoscopes are available in a variety of models. Naturally, the first step in choosing your stethoscope is deciding what you intend to use it for. The type and quality of stethoscope required for cardiology will of course be vastly different from that of the entry-level stethoscope used by a nursing student.

In this article, we're specifically looking at the differences in value and performance among a range of stethoscopes as, when it comes down to it, these two factors play a major role in choosing the ideal stethoscope.



Entry-level stethoscopes Ð elitecare Sprague Rappaport

When it comes to basic stethoscopes, our elitecare Sprague Rappaport-style stethoscopes offer exceptional value for money. These popular instruments offer five-in-one functionality with interchangeable chest piece attachments. Available in a variety of colours, at relatively low costs, they deliver highly satisfactory performance, making them ideal as entry-level nurse or student stethoscopes.



The elitecare dual head stethoscope Ð best value for money

From their floating diaphragms to adjustable earpieces, our elitecare dual head stethoscopes offer exceptional value for money. These superior stethoscopes deliver excellent acoustic performance in cardiology, respiratory and vascular applications.

The high-performance brushed stainless steel chest piece is easy to clean and the clinical dual head function allows assessment through both the diaphragm side to catch medium and high frequency sounds and the cardiac bell to listen for low frequency sounds.

The anatomically aligned headset has earpieces angled forward so they align with the anatomical path of the ear canal and the adjustable binaural spring assists in creating a comfortable airtight seal.

The advanced light binaural spring also allows the wearer to adjust headset pressure into the ears, which is essential for maximising sound isolation and blocking out surrounding noise.

The state-of-the-art design features tuneable diaphragm technology that allows clinicians to hear different frequency sounds by simply adjusting the pressure placed on the chest piece (light pressure for low frequency, increased pressure for higher frequencies).



Top of the range stethoscopes

The Littmann Classic III stethoscope and Cardiology IV Stethoscope are top-of-the-range models well-known for being leaders in the field. Both offer high acoustic sensitivity, delivering exceptional performance during general physical assessments. Probably overkill for most day-to-day applications, these instruments deliver outstanding levels of performance and are great for cardiologists and specialists in need of a reliable instrument for conducting advanced medical examinations.



Our pick?

When it comes to excellent performance and a competitive price tag, it is impossible to go past the elitecare dual head stethoscope. These durable, reliable, comfortable stethoscopes perform exceptionally well and are reasonably priced, making them ideal as nursing stethoscopes as well as for use by doctors, paramedics, and other medical or health workers.



Take a look at our range of stethoscopes and other medical equipment

Whether you're a student looking for an entry level stethoscope or a cardiology nurse who needs top-quality equipment, you can explore our entire range of stethoscopes at https://www.enurse.com.au/product-category/equipment/diagnostic-equipment/stethoscopes/.

Plus, you'll find all the nursing equipment you need at unbeatable prices at www.enurse.com.au. New products are constantly being added to our already incredibly wide range. Why not head over and take a look!