Cotton scrubs keep you cool, comfy and cling-free!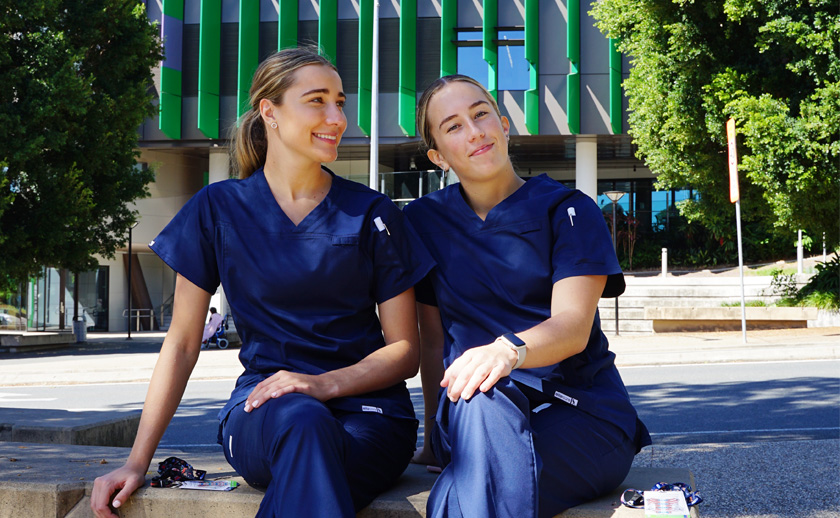 Date Posted:7 June 2023
We've got a topic today that will surely resonate with every one of you
– the indispensable importance of cotton blended scrubs!
We wear cotton undies for a reason!
The main features and benefits of cotton are:
Cotton is comfortable
Cotton is naturally sustainable
Cotton supports farmers and communities
You sleep better with cotton
Cotton is hypoallergenic
Cotton is odour-free
Cotton is low maintenance
Cotton isn't clingy
Cotton is versatile
Cotton is high-tech
Bye Bye, Sweaty Surprises!
Whether you consider yourself a 'sweaty person' or not, we've all had our fair share of wet patch fiascos. Fear not, fellow nurses, for cotton blended scrubs are here to save the day! These magical threads wick away moisture like nobody's business, keeping you fresh, dry, and confident through even the busiest of shifts.
Comfort That's Out of This World!
Let's face it, folks – our jobs can be a real pain in the... well, back. But fear not! Cotton blended scrubs come to the rescue with their heavenly softness and unparalleled comfort. We're talking about scrubs that feel like a gentle hug from a fluffy cloud. Who says you can't have both style and supreme comfort?
Let Your Personality Shine Bright!
You, dear nurses, are like vibrant stars in the galaxy of healthcare. And what better way to express your unique personality than through your scrubs? With cotton blended scrubs, you'll find a dazzling array of colors, patterns, and designs that speak to your inner fashionista. Let your scrubs do the talking while you focus on your incredible work!
Durability That's Built to Last!
In the chaotic world of nursing, it's essential to have scrubs that can withstand the toughest challenges. Thankfully, cotton blended scrubs are made of sturdy stuff! They're built to endure countless washes, relentless shifts, and the occasional tug-of-war with mischievous patients. Your scrubs will stay as resilient as you are!
Holiday-Ready Practicality with a Hint of Quirkiness!
Now, we know nurses deserve some well-earned time off for adventures and relaxation. But what about those pesky creases that seem to pop up out of nowhere? Worry not, dear friends! When it comes to packing for a holiday, a cotton polyester, with a spandex blend may be your best option for comfort and practicality. So go ahead and rock those wrinkle-resistant scrubs while you sip cocktails by the beach or explore new lands!
So there you have it, our awesome nursing amigos! Cotton blended scrubs are the trusty companions you need by your side, even on your well-deserved holidays. They'll keep you cool, comfy, and stylish throughout your noble healthcare journeys and your exciting adventures beyond. So go forth, rock those scrubs, and continue being the superheroes of healthcare, no matter where life takes you!
Wishing you a day filled with smiles, laughter, and plenty of well-deserved relaxation.
Yours in cottony goodness,
Love
The eNurse Team
Reference: australiancotton.com.au/supply_chain/the-features-and-benefits-of-cotton
---
Leave a comment