Elitecare Scrubs – not just great value, they're super practical too!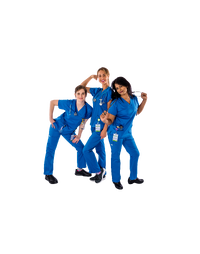 Let's face it, as a nurse, doctor or health worker you're bound to spend a fair chunk of your time wearing scrubs. And there's a very good reason for that! Scrubs are specifically designed to make your life easier on the ward. From being lightweight and comfortable to being able to take the stresses, strains and spills that are an inevitable part of your rounds, you depend on your scrubs to keep you safe and presentable throughout your shift.

But not all medical scrubs are made equal! Just ask anyone unfortunate enough to purchase a cheap and nasty scrub top or pant. It won't take long before you notice the difference that a quality scrub like those elitecare¨ makes.

Here are just a few of the ways you can tell that your elitecare¨ scrubs are not just great value, they're super practical too!

1. There are a number of ranges to choose from
elitecare¨ scrubs are available in three different ranges (Classic, Essentials and Plus) that have different features and benefits, depending on your personal requirements and preferences. Classic for stretch and comfort. Essentials for incredible value. Plus for unmatched durability.

2. They're designed by health workers for health workers
elitecare¨ classic scrubs are designed by nurses, specifically for nurses. This means they're designed to accommodate the unique requirements for nursing scrubs, including 6 pockets, an elastic waist and drawstring and a stretch fabric for a comfortable fit.

3. They're affordable without compromising on quality
The elitecare¨ Essentials range offers affordable unisex scrubs for all healthcare professionals that represent one of the best value scrubs in Australia. You'd be hard-pressed to find a scrub of the same quality at this price.

4. They're durable without compromising on comfort
elitecare¨ Plus unisex scrubs are made from 65% polyester and 35% cotton to ensure that they are incredibly comfortable as well as being incredibly long lasting, able to withstand 70-degree temperatures and guaranteed not to fade for one year. These are perfect to kill any bacteria whilst being washed hot every time without compromising quality.

5. They made from innovative fabric blends
The Classic range of men's and women's scrubs gets its stretchability from the unique blend of 55% cotton, 42% polyester and 3% spandex, whereas elitecare Plus unisex scrubs are made from 65% polyester and 35% cotton that gives them their extreme durability and fade-resistance.

6. They have pockets!
Like Batman's utility belt, pockets are essential for all nurse superheroes! The elitecare¨ Classic range of men's and women's medical scrub pants has 6 pockets to store your gear, and the elitecare¨ women's cargo scrub pant has 9 pockets (including a handy scissor pocket). If that's not enough, elitecare¨ Classic men's and women's scrub tops have a 5 pockets and unisex Essential scrub tops have 3 large functional pockets and a side utility loop.

These are just a few of the incredible features of Elitecare¨ men's and women's medical scrub pants and tops. To learn more, browse our wide range of pants, tops and essentials for men and women.

eNurse is proud to be the exclusive distributor of Elitecare¨ Scrubs.