Period underwear – your questions answered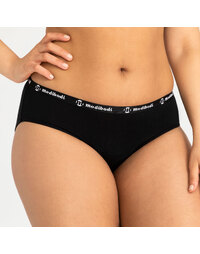 Interested in period and leak-proof underwear but don't feel confident? Got questions? Unsure how it really works?

We're answering your most common questions about Modibodi so you can swap disposable pads and tampons for planet-friendly protection, comfort, confidence Ð and no leaks.


How does it work?

The scientifically proven, patented technology built into the gusset of Modibodi underwear was developed after 18 months of intensive consultation and testing with chemical textile engineers and scientists.


The slim absorbent gusset has multiple layers which work together to absorb bleeding, bladder leaks, discharge and perspiration. The top layer is made from Merino wool (or polybrush in our vegan styles) which wicks moisture, keeps you cool, absorbs odour and is naturally antimicrobial to fight bacteria.


The middle layer (or layers in our most absorbent Maxi-24hrs styles) is made from Microfibre Terry which absorbs fluid and locks it away, while the bottom waterproof layer protects your clothes from leaks.


Does it feel wet?

For many first-time customer, the biggest hurdle in choosing to reuse is the perceived Ôickiness' factor they worry they'll feel Ôwet'. However, the unique technology in our gusset ensures you'll feel fresh and dry by wicking moisture, absorbing odour and locking fluid away in the middle layer not the layer which sits against your skin.



Absorbencies for every flow

Modibodi underwear comes in a range of absorbencies, so you can choose a style to suit depending on your flow including our best-selling Maxi-24hrs style, which absorbs up to 50ml (or 10 tampons' worth) to provide the ultimate protection and peace of mind for heavy periods, frequent bladder leaks, overnight wear or long shifts.




Does it feel bulky?

No, the beauty of the built-in lining is that it's super discreet, and just 3mm thick for most absorbencies. In our Maxi-24hrs absorbency, the gusset is 6mm thick but tapers towards the front and back waistbands. And because it's built into the garment, the absorbent gusset won't bunch up or move around as you walk, work, run or sleep.


Styles and sizes to suit every body

From thongs to bikini briefs to sensual lacy styles, full briefs, adaptive styles and boyshorts in sizes 6 to 26, as well as styles for tweens, teens, maternity and active wear, there's a Modibodi style to suit a wide range of body shapes and sizes.


Is it safe?

Absolutely. All ofÊour garments have been tested for harmful substances andÊare certified according to STANDARD 100 by OEKO-TEX¨. The process to achieve OEKO-TEX¨ certification gives customers confidence the products they're buying don't contain harmful chemicals or substances, such as allergens or carcinogens.

https://www.oeko-tex.com/en/


The antimicrobial fabric treatments we use to absorb odour and fight bacteria are BlueSign* approved for consumer safety. TheÊBlueSignÊtick of approval means the methods and materials used to manufacture the product use resources responsibly and have the lowest possible impact on both people and the environment.

*https://www.bluesign.com/en


How do I wash Modibodi?

Firstly, there's no old-fashioned soaking, scrubbing or bleaching. Just wash your garment once before wearing it to activate the absorbent technology, then, after wearing, rinse with cold water (or in the shower) until the water runs clear, then wash in the machine at 30¡C or below with normal laundry detergent Ð and hold the fabric softener. Hang to dry in the sunshine, or on a clothes horse. That's it!


What if I need to change underwear when I'm out?

Many of our customers happily wear their reusable underwear all day without needing to change, but everybody's flow is different. We advise wearing a different absorbency for heavy vs light days, or for overnight, or choosing the Maxi-24hrs absorbency if your flow is heavy, you suffer from frequent bladder leaks, or you need to wait for a longer period between changes.


If you will need to change when you're at work or out and about, just use a Modibodi waterproof Wet Bag to safely store the underwear you've worn until you get home to wash it.


How will I know when it's time to change?

When it's time to change your underwear, it will start to feel a little heavy, and the top layer will begin to feel slightly damp. It won't take long for you to get used to wearing Modibodi and learning exactly how long they'll last between changes Ð depending on your individual cycle.