Pick your favourite Christmas scrubs to reveal your Christmas persona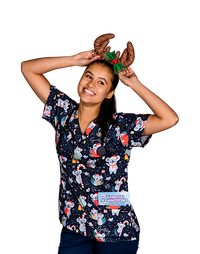 At eNurse we appreciate the sacrifices made by so many healthcare workers, particularly over the festive season when their presence brings comfort and cheer to patients and their families. Our range of eNurse Christmas scrubs is specially designed to help you get into the festive spirit and brighten up the mood on your ward.

Just for fun, we take a look at some of the Xmas scrub tops available in our range of men's and women's Christmas scrub tops to see what your choice of top reveals about your Christmas persona.

Christmas Scrub Top: Dashing through Doughnuts
Christmas persona: Gingerbread man
Loves the smell of cinnamon at Christmas Ð and all year round!
Light and bright with traditional Christmas colours on a white background, this top is ideal for lovers of doughnut and funky Christmas cartoon characters. Enjoy this festive season in style with Maeven Scrubs made from 92% polyester and 8% spandex for a soft texture and comfortable fit. Pair this Christmas scrub top with black, navy, red or green pants to complete the look.

Christmas Scrub Top: Santa's favourite Nurse
Christmas Persona: Cindy Lou Who
Counts the weeks until Christmas Ð starts in January!
What better way to celebrate the festive season in the International Year of the Nurse? Spread Christmas cheer with this cheeky Xmas scrub top in bright red. It's the perfect little red number to add to your eNurse Christmas scrubs collection. These bold unisex elitecare¨ Christmas scrubs have been designed by nurses for nurses. The improved design has five pockets, two pen pockets, a shoulder loop and side utility loop. With a creative fabric mix of cotton, polyester and spandex for added stretch and comfort, these scrubs look fantastic and feel amazing!

Christmas Scrub Top: Happy Llama Day!
Christmas Persona: Rudolph
Life and soul of any Christmas party!
Bring the Llama Christmas Spirit! This trendy Christmas scrub top is sure to put a smile on your patients' faces. This printed V-neck top has front princess seams, side vents and back darts for added style and shape. Maeven Scrubs are soft and comfy to wear, made from 92% polyester and 8% spandex. Two lower patch pockets and inner cell pocket as well as an inner utility loop at the pocket make them perfectly practical too!

Christmas Scrub Top: Have a Cocoa holiday!
Christmas persona: Mrs Claus
Loves Christmas Ð for the food!
It's time to get festive with a printed V-neck cocoa Christmas scrub top. This fun Christmas scrub is designed with lovers of warm drinks and good food in mind. The incredibly soft material spun from 92% Polyester and 8% spandex means they're as comforting to wear as a warm cup of cocoa on a cold night. Princess seams and back darts add style and shape. The two lower patch pockets with inner cell pocket and inner utility loop make it easy to carry items on your rounds.

Christmas Scrub Top: Bell Frosty
Christmas Persona: Frosty the Snowman
A jolly happy soul. Comes to life at Christmas time!
Complete your Christmas nursing scrubs look with this cute scrub that your patients will love. Spread Christmas cheer around your ward this festive season with this fun koi Frosty Xmas scrub top featuring sparkly hearts. This scrub is made from 97% cotton and 3% spandex. A great fit and very comfortable, it's lightweight and perfect for Christmas in Australia.

Christmas Scrub Top: koi Leslie Snow Flurries
Christmas Persona: The Little Drummer Boy
Ready to drum up some Christmas cheer, no matter what the weather!
While we may not have white Christmases in Australia, there are those among us who dream of them! Our limited-edition koi Snow Flurries Christmas scrub top is bound to create that Christmas feeling in your ward and bring joy to those who long for snow at Christmas time. Made from a polyester/spandex blend, they are super comfy to wear. Pair with navy pants to complete your Christmas outfit.

Christmas Scrub Top: Silent Night
Christmas Persona: The Angel
Sprinkles stardust wherever they go.
If you're not into Santa, reindeer and elves, but still wish to share the Christmas spirit, you'll love this stunning silent night Christmas scrub top featuring ombre print with foil stars and dots. The koi Lite Reform True Ceil/Navy Christmas scrub top has a classic V-neck, two side entry pockets, and bungee ID loop on right side. Made from breathable moisture-wicking fabrics with side slits and elastic side panels for shape and style, this lovely scrub top will help you celebrate Christmas in your own personal style

With so many women's and men's Christmas scrubs to choose from, you're sure to find the one that expresses how you feel this Christmas. Browse our range and order yours while stocks last.