Scrubs That Will Turn Heads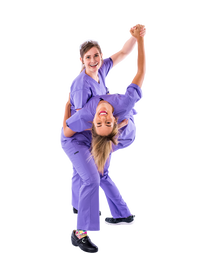 In appreciation of all they do, eNurse provides nurses and healthcare workers with high quality scrub pants and tops that allow them to show their passions and bring a touch of colour and/or humour to their often fast-paced, dynamic and demanding work environments.

Elitecare scrubs: So much more than just a uniform!

Elitecare Essentials

When it comes to finding an affordable scrub for all healthcare professionals, you'd be hard-pressed to find a scrub of the same quality and price as our elitecare Essentials range. Made from a sturdy blend of 65% Polyester and 35% Cotton, the elitecare Essentials scrub top is incredibly durable. These tops have three large functional pockets and a side utility loop and are available in a variety of fashionable colours. Pair them with elitecare Essentials unisex scrub pants to complete the look.

Elitecare Classics

Truly the best value-for-money scrubs in the Australian marketplace, our elitecare Classic nursing scrub tops and pants are sure to turn a few heads with their wide range of styles and colours. Made from an innovative fabric mix of cotton, polyester and spandex, these scrubs feel amazing to wear and look fantastic on!

Our elitecare Classic unisex scrub tops and pants are super comfortable and incredibly practical with plenty of pockets for storing essential equipment.

Elitecare Plus

Made for nursing superheroes, our stylish elitecare Plus range of scrubs are long lasting, fade resistant and built to withstand 70-degree temperatures.

Made from 65% cotton and 35% polyester, these super tough scrubs are arguably the best value Ôtough' scrubs in the marketplace.

Elitecare Print scrub tops

Our unisex elitecare print scrub tops are especially well suited to veterinary nurses as they have adorable animal prints which your patients or furry friends will love. These three-pocket scrub tops are also made from a cotton, polyester, and spandex blend for comfort and stretch.

Elitecare 9-pocket Cargo scrub pants

Elitecare 9-pocket cargo pants are fast becoming our most popular scrub pants. These head-turning cargo scrub pants for women and men are made from the same fabric blend as our elitecare Classic range. As well as being super comfortable and stylish, they are highly functional with plenty of pockets for storage.

Elitecare Women's Classic Patricia Top Ê

The elitecare Classic Women's Patricia scrub top is a slim fit top. Designed in Australia by a nurse, for nurses, Patricia scrub tops are made from a creative fabric mix of cotton, polyester and spandex for added stretch and comfort. So, they feel amazing to wear and look fantastic on! This improved slim fit design has three pockets, one pen pocket and a pocket loop.



Elitecare Men's Classic Edward Top

Designed for Australian Health professionals who want room to move, the elitecare Classic Men's Edward top is a very generous in size. Designed in Australia by a nurse, for nurses, Edward scrub tops are made from a blend of cotton, polyester and spandex for added stretch and comfort. So, they feel incredibly comfortable and look fantastic on! The innovative design includes four pockets, one pen pocket and a pocket loop.



Koi sensational scrub tops and pants

Koi print scrub tops

Koi print scrub tops are a will turn heads on fun Fridays. They are also great for bringing cheer to the paediatric ward or at veterinary clinics or dentists' rooms. There is something for everyone in Koi's incredible range of limited-edition print scrub tops. You'll need to keep an eye out and order your favourite when you spot it though as this dynamic range changes with every season.

Koi Basics

With a huge range of scrub tops in different colours and styles as well as super comfortable pants, the koi Basics range is perfect for nurses who love the feel of super soft material. Made from a luxurious blend of polyester and spandex, it's just like wearing your most comfortable pair of pj's!

Koi Classics

These great value scrubs feature superior quality, styling and fit with unique and functional design details inspired by the latest fashion trends. The polyester cotton fabric blend is lightweight breathable and stretches as you move, making them super comfortable. The advanced moisture-wicking technology keeps you cool and dry. Plus, they are Ôwash-and-wear,' so you won't need to iron them.

Koi Next Gen

Our koi next gen range of scrubs includes pants and tops for women in a variety of different colours and styles. The Hustle and Heart scrub tops feature a modern classic fit with a wide V-neck along with three pockets for storage.

You'll look fantastic in the new koi Next Gen Everyday Hero drawstring women's cargo scrub pants featuring a modern classic fit, mid-rise and a straight leg design. They are incredibly comfortable and practical with an elastic waistband and five pockets.

Our koi Next Gen Good Vibe scrub pants are sure to be one of your favourites. These easy-care jogger-style pants are very comfortable with an elastic waistband, midrise waist and drawstring ties. They also have six pockets for storage.

Busy nurses will love turning heads in our koi Next Gen On the Run scrub pants. Stylish and comfortable, these easy-care skinny leg pants are made from a blend of polyester, rayon and spandex with four-way stretch, so they feel as amazing as they look. Plus, they have seven pockets and a tool loop on the side.

Koi Lite scrubs

The koi Lite range of scrub tops and pants is easy to wash and wear. Lightweight and soft they are made from a blend of 95% polyester with 5% spandex, which stretches and moves when you do for a very comfortable fit. The breathable, moisture-wicking fabric will keep you cool and dry throughout the busiest shift.

Koi Maternity scrubs

Our koi maternity tops combine Koi style and amazing comfort. They are made from breathable moisture-wicking polyester/spandex fabric blend with an expandable front, a mock-wrap neck, two front pockets and a bungee loop for your ID badge.

Christmas Scrubs

eNurse offers the largest range of Christmas scrubs in Australia. These festive scrubs will brighten up any ward. Our huge range of elitecare Christmas Scrubs, koi Christmas Scrubs and Maeven Christmas Scrubs are always incredibly popular, so be sure to get yours ahead of time as they sell out fast.



Browse the stunning scrubs available at eNurse

When it comes to great-looking, comfortable and affordable scrubs that turn heads, nurses are spoiled for choice, which is as it should be!



Why not treat yourself to a fresh pair of scrubs today! Browse our huge range to find your perfect pair.