The 10 must-have items for today's nurse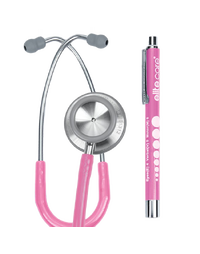 When every shift seems busier than the previous one, and you're rushed off your feet, the last thing you need is to waste time on trips to supply cupboards, storerooms or even your car to pick up the essential tools you need to get things done.

In this post, we've compiled a handy checklist you can use to ensure you've got the 10 must-have items you need to make your rounds that much easier.
1. Stethoscope

First up, you'll need a high-quality stethoscope such as the elitecare¨dual head stethoscope, With a floating diaphragm and anatomically aligned headset with advanced binaural spring, this stethoscope is designed for maximum comfort and advanced acoustic performance in cardiology, respiratory and vascular applications.
2. Sphygmomanometer

A reliable sphygmomanometer is essential. Whether you prefer the elitecare¨single hand model or the elitecare¨ traditional sphygmo, with proper care and maintenance, your blood pressure kit will provide years of satisfactory service.
3. Thermometer

A quality thermometer, such as the Aeon Technology foreheadÊthermometer, will help you to keep track of your patient's vital signs. Take a look here at our post about how to choose the best thermometer for your application.
4. Penlight

Penlights are indispensable for doing your rounds as hospital lighting may not be sufficient for neurological exams and skin assessments.
5. Pens or markers

From taking notes to labelling medications and marking IV lines, pens and markers are essential tools to have with you on the ward. Four-coloured ICU pens are great for colour-coding patient notes.
6. Safety glasses

Your eyes are precious. Protect them from infection, contamination and physical harm with high-quality safety glasses designed with your safety and comfort in mind. Our light weight and compact elitecare¨ safety glasses offer high levels of protection with polycarbonate lenses that are scratch-resistant. Rubberised temple grips, in a variety of colours, provide a secure fit.
7. Scissors

Cutting tape, dressings, fabric and more is all part of a day's work for busy nurses, which is why having a sharp pair of scissors handy is vital. A high quality pair of curved utility scissors coupled with a pair of forceps makes life on the ward so much easier.
8. Ampoule opener

Get the better of those stubborn little glass vials by keeping an ampoule opener on hand. You'll be able to open tough ampoules easily with these lightweight colourful safety devices invented by an Australian nurse.
9. Watch

The fob watch is virtually synonymous with nursing around the world, it is such an essential part of the nurse's tool kit. It is important to select a model with a large face, glow-in-the-dark numbers and a second hand so you can easily take a patient's pulse or blood pressure by day or by night. Ensure your watch is waterproof and preferably choose a silicone band as the watch is bound get dirty.Ê
10. Essential drugs book and dosage cards

With nearly 3400 Australian drug names, organised alphabetically, and more than 900 medical abbreviations defined, the Esssential Aussie Drugs pocket book is an excellent little guide to have in your pocket. Plus, the double-sided eNurse¨ Dosage & Calculations quick reference card, ensures you're easily able to calculate dosages, convert units of measure, and much more.
Putting it all together

We've made it easy to get all these must-have items by putting them together for you in a single simple kit. You can get all the items above in your favourite colour with our Must Have Nurse kit that also includes a large 13-pocket nurse pouch to carry it all around.

Once you have the essentials taken care of, browse our extensive range of high-quality nursing equipment that covers the spectrum of nursing requirements.