The ultimate guide to choosing the best nursing scrubs for you!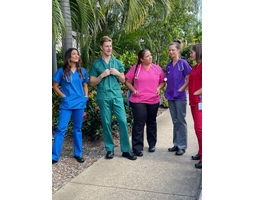 Over the past 35 years, the demand for more practical new nursing uniforms has increased. As a result, nursing scrubs have gained popularity and become standard attire for nurses around the world.

Medical scrubs are immensely practical, offering comfort, protection, and the freedom to move that is so often required on the floor. They are made of durable materials with special treatments to ensure that they can be thoroughly sterilized during washing and do not hold stains. Due to their wide use, they are available in a multitude of colours, styles, cuts, and brands.

With so many different types of scrubs on the market, it can be hard to know which ones are right for you. Here are five crucial things to consider when selecting your scrubs, so you're confident you're getting the best nursing scrubs to suit your needs.
Consider any specific workplace requirements

Bear in mind that some hospitals have specific requirements for nursing and medical scrubs. They may require you to wear a particular colour or style. Before you shop for scrubs make sure you are aware of these requirements and use them as a guide when choosing your scrubs.
Maintain a professional appearance

Although comfort and practicality are important, it is also important to be well-presented with a professional appearance. This will help your patients feel more confident in your abilities. Choose your scrubs with this in mind.
Focus on quality and durability

Between protecting you while you're on the floor and regular high temperature cycles in the washing machine, your scrubs are going to take a beating. The last thing you want, after just a few weeks of wear, is faded linty scrubs with the stitching coming apart in places. That's why it is important to choose good quality, durable scrubs. When it comes to durability, it's hard to beat our elitecare¨plus super scrubs. They handle temperatures of up to 70¡C and are guaranteed not to fade for one year.
Make sure your scrubs fit properly

You're going to need room to move around without busting a seam, so choose loose-fitting scrubs rather than skin-tight ones. Don't go over-sized though, it's important that you're comfortable.

Stretch fabrics allow you to wear more tailored scrubs, but they don't appeal to everyone. Experiment with stretch and non-stretch fabrics to see what works best for you. Look for side slits in non-stretch scrub tops as these provide additional flexibility, particularly in longer length scrub tops.

When it comes to pants, you have the option to go with elastic waistbands, draw strings or buttons. Whichever you choose, be sure to get a good fit so you're not constantly hitching up droopy pants or struggling to squeeze into button-ups. For comfort, stretch and durability, take a look at our range of well-made elitecare¨ classic elitecare¨ Classic Scrubs and elitecare¨ women's elitecare¨ Cargo pants.
Do you need pockets?

Look for nursing scrubs with the right number and location of pockets to suit your needs. If you're carrying heaps of items such as scissors, pens and more, choose scrubs with pockets, such as our elitecare¨ classic unisex scrubs that have 5 pockets and 2 pen pockets in a durable stretch fabric. Still not enough? Our elitecare¨ women's cargo pants elitecare¨ Cargo Women's Pants have 9 spacious pockets!
Choose styles that reflect your personality

In the absence of any workplace restrictions, the wide variety of styles, colours and prints available in medical scrubs means you can choose scrubs the same way you would your regular clothes, by selecting those that reflect your personality. Wear funky colours or seasonal themes to brighten your patient's day or stick with more conservative colours such as grey, green, navy, black or blue scrubs if you prefer. If you're after truly fashionable styles, try our koi scrubs koi Happiness, they have earned their reputation as one of the best fashionable styles of scrubs in the world.

Whatever you require from your scrubs nursing scrubs, you are sure to find a pair that suit your needs from our huge range which includes popular brands such as elitecare¨ and Koi. Visit eNurse enurse.com.au today and, while you're there, browse our massive range of nursing equipment and accessories.